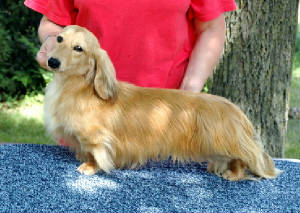 ~ FLASH ~

AMERICAN & CANADIAN CHAMPION
GUARDIAN GOLD VOM DAXI HAUS ML
MULTIPLE GROUP PLACINGS
INCLUDING GROUP ONE!!
Longhaired English Cream
Sire: CH Cedarhurst Gold Sovereign ML
Dam: CLV Jutah Vom Daxi Haus ML
We are honored to own this beautiful boy! He completed his Canadian Championship in two days (4 shows), including two Group 4's and a GROUP ONE! THANKS Jan Gran for an excellent job!!

He just finished as an American Champion on January 6, 07 with his third 4 Point Major in St. Paul!! Thanks to Jean Jasinsky for her loving and expert handling of Flash! He truly is an

exceptional

male in every way!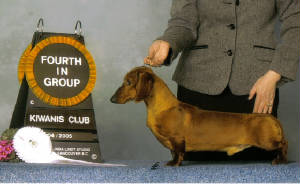 ~ TORCH ~
AMERICAN AND CANADIAN CHAMPION
GUARDIAN'S CHARIOT OF FIRE MS
Multiple Group Placements!
Sire: Shamrock's Persimmon Ridge MS
Dam: Am & Can CH Guardian's Fire MS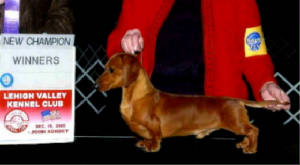 ~ TUCKER ~
AMERICAN CHAMPION
RELLIH'S GIGALO BY DESIGN MS
Sire: CH Grandgables The Gladiator MS
Dam: CH Rellih's Bittersweet Delite MS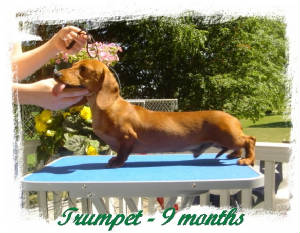 ~ TRUMPET ~
CANADIAN CHAMPION
CH GUARDIAN'S THE LAST TRUMPET MS
Sire: AM/CAN CH Guardian's Chariot of FIRE MS
Dam: CAN CH Guardian's Eternal Flame MS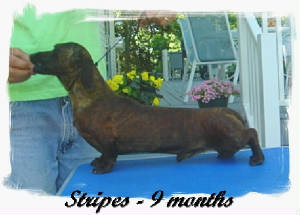 ~ STRIPES ~
CANADIAN CHAMPION
CH GUARDIAN LINE OF FIRE MS
Sire: CAN CH Guardian's Bamboozled in Paradice MSB
Dam: CH Gran's Designer Flare MS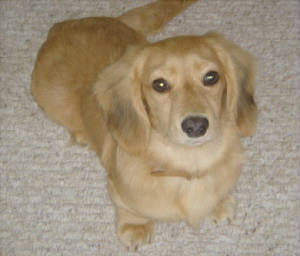 ~ RANGER ~

Devoncream Sloane Ranger ML
Longhaired English Cream Import
*PRA CLEAR*
Sire: Devoncream Hill Wind
Dam: Devoncream Debutante

Click here to see some of the beautiful Dachshunds we have
had that are now retired, residing with others, or are no longer with us.
These dachsies have contributed much to the bloodlines we have
today, and you'll find them in many of our pedigrees.